Consumers & Realtors
Home ownership is often the most important and expensive decision most individuals will make, and buying or selling a home can be a challenging task. MIS offers the expertise and solutions to help you navigate effortlessly through the process.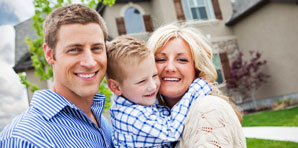 Preparation is an essential key to success. MIS can help you prepare by providing invaluable resources and tools to make the home buying or selling experience simple and successful. One such tool is our Closing Checklist which identifies the necessary items required for you to buy, sell or close the transaction. Another is our Property Market Search which allows you to research the city you intend to buy or sell in.
What is Title Insurance and why do you need it?
Traditionally, real estate ownership is considered a family's most valuable asset and is thus worthy of the paramount protection. Title Insurance is one of the primary avenues of such protection. The purchase of real estate itself can be construed as being equivalent to the purchase of title to the property, that is, the right to occupy and use said property. Title Insurance provides protection against loss from hazards and defects in title that may potentially already exist. In fact, title insurance is the only insurance product which provides coverage for future claims or losses which may arise due to a past event or an event prior to the acquisition of the property. Some of the most common hidden risks that can result in loss of title or create an encumbrance on title include:
False impersonation of the true owner of the property
Forged deeds, releases, or wills, and instruments executed under invalid or expired Power of Attorney
Undisclosed or missing heirs
Mistakes in recording legal documents
Mistakes in the public records
Misinterpretations of wills or deeds
Deeds by minors
Deeds by persons supposedly single, but in fact married
Liens for unpaid estate, inheritance, income or gift taxes
Fraud
Basic Types of Title Insurance
There are two basic types of Title Insurance. The mortgagee or loan policy covers the lender by providing assurance that the quality of the title to the real estate being acquired, and which can be pledged as security for the loan, is satisfactory. This does not protect the borrower or homeowner.
The other, the owner's policy, protects the borrower or home owner against title defects by emphasizing risk elimination, thus creating the best possible chance to avoid title claims and losses – giving the homeowner a greater sense of peace of mind.